Bulk Trash & Brush Pickup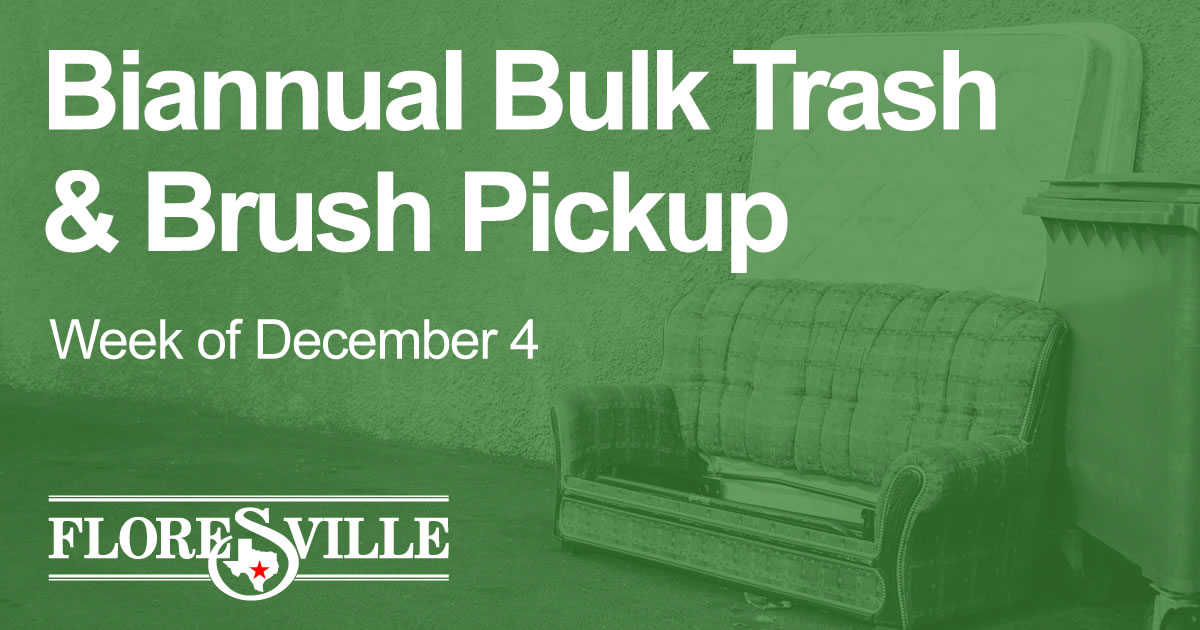 The biannual bulk trash and brush pickup is scheduled for the week of December 4, 2023. There is a 3 cubic-yard limit: any amount over 3 cubic yards will not be picked up. Please be sure to have your brush/bulky items out before 7:00 a.m. on Monday, December 4. Items placed on the curb after this time will not be picked up if your street has already been serviced. If you have any questions, please contact City Hall at (830) 393-3105.
Acceptable Materials
Shrubs, tree branches, woody vines, other herbaceous and woody plants
BBQ grills (without compressed gas tanks)
Carpeting
Fencing
Furniture
Mattresses
Toilets
Water heaters
Appliances (Refrigerators, freezers, and window air conditioning units will be collected only if refrigerant has been removed and the appliance is tagged and certified, indicating removal of refrigerant.)
Unacceptable Materials
Household trash
Construction debris
Hazardous materials (paints, household cleaners)
Compressed gas tanks
Tires
Televisions
Computers
Medical waste
Appliances with refrigerant that has not been removed and certified
Guidelines
Limit your pile to 3 cubic yards. (To determine the size in cubic yards, take the length x width x height of the pile and divide by 27. This will equal the cubic yards. For example, 5 feet long by 5 feet wide by 4 feet high = 100, divided by 27 equals 3.70 cubic yards.)
Must be placed within eight feet of the curb.
Do not place piles in front of parked cars, near fences, trees, mailboxes, beneath overhead wires, low-hanging tree limbs, or on top of gas/water meters.
Set out no later than 7:00 a.m. on the first day of your scheduled collection week.
Do not place material at the curb after crews have passed by your house.
---
Hosted by Republic Services and the City of Floresville.