Fourth Annual 2019 Family Fun & Freedom Fest
June 28, 2019

-

June 29, 2019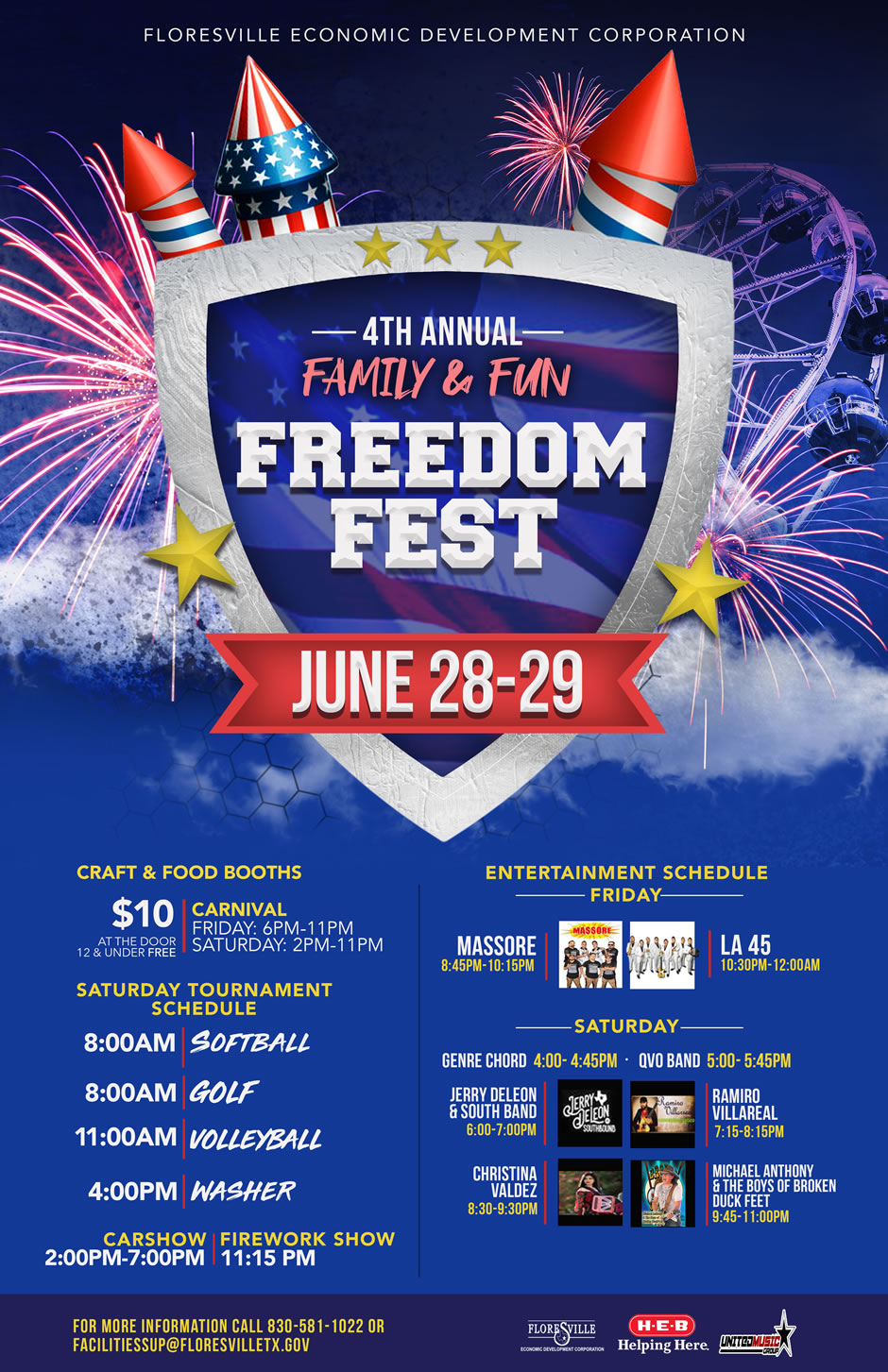 Friday, 6–12 midnight
Carnival (unlimited rides wristband is $10; ends at 11 pm)
Food, Drinks, Music
Live music by Massore (8:45–10:15 pm), LA 45 (10:30 pm–12 midnight)
Saturday, 2–12 midnight
Carnival (unlimited rides wristband is $10; ends at 11 pm)
Food, Drinks, Music, Fireworks
Car show (2–7 pm)
Softball tournament (all day, starting at 8 am)
Golf tournament (all day, starting at 8 am)
Volleyball tournament @ 11 am
Washer tournament @ 4 pm
Live music by Genre Chord (4:00–4:45 pm), QVO Band (5:00–5:45 pm), Jerry De Leon & South Bound (6:00–7:00 pm), Ramiro Villareal (7:15–8:15 pm), Christina Valdez (8:30–9:30 pm), Michael Anthony & The Boys of Broken Duck Feet (9:45–11:00 pm)
Fireworks show @11:15 pm
Prices
Tickets $10 at the gate; kids 12 and under are free.
Carnival rides wristbands (unlimited rides) are an additional $10/day.
Typical minimum height for most carnival rides is 36 inches.
Concerts/entertainment are indoors.
Concert/entertainment seats and tables are available on first come, first served basis: no reserved seating or table reservations.
Free parking.
Tournaments
Softball: $200/team (register by Friday)
Indoor Volleyball: $125/team (register by Friday)
3-Hole Washer: $40/team (signup by 2 pm Saturday)
For more information on tournaments or vendor space, please contact (830) 581-1022 or ecmanager@floresvilletx.gov.