Third Annual Family Fun & Freedom Fest
June 28, 2018

-

July 1, 2018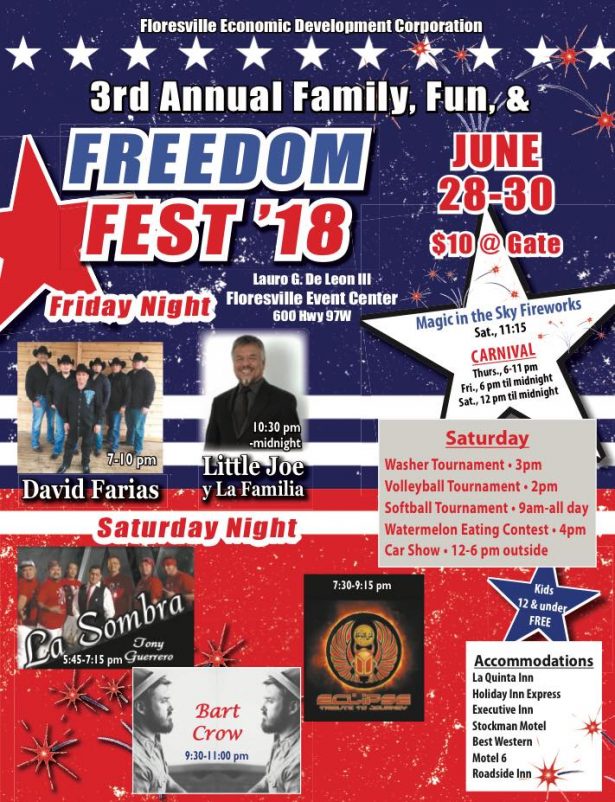 Thursday, 6–11 pm
Carnival Only
Grounds Admission: Free
Rides: 4 tickets each ($1/ticket)
Unlimited Rides (Single Day) Wristband: $15 (Thursday and Sunday)
Friday, 6 pm–12 midnight
Carnival (rides are free after paying $10 grounds admission)
Food, Drinks, Music
Live music by David Farias (7–10 pm), Little Joe y La Familia (10:30 pm–12 midnight)
Saturday, 12 noon–12 midnight
Carnival (rides are free after paying $10 grounds admission)
Food, Drinks, Music, Fireworks
Car show (12 noon–6 pm; free registration by Friday)
Softball tournament (all day, starting at 9 am)
Volleyball tournament @ 2 pm
Washer tournament @ 3 pm
Watermelon eating contest @ 4 pm
Live music by La Sombra (5:15–7:15 pm), Eclipse Tribute to Journey (7:30–9:15 pm), and Bart Crow (9:30–11:00 pm)
Magic in the Sky fireworks show @11:15 pm
JUST ADDED! Sunday, 2–6 pm
Carnival Only
Grounds Admission: Free
Rides: 4 tickets each ($1/ticket)
Unlimited Rides (Single Day) Wristband: $15 (Thursday and Sunday)
Prices
Tickets $10 at gate; kids 12 and under are free.
Carnival rides are free on Friday and Saturday after paying $10 grounds admission.
Typical minimum height for most carnival rides is 36 inches.
Concerts/entertainment are indoors.
Concert/entertainment seats and tables are available on first come, first served basis: no reserved seating or table reservations.
Free parking.
Tournaments
Softball: $200/team (register by Friday)
Indoor Volleyball: $125/team (register by Friday)
3-Hole Washer: $40/team (signup by 2 pm Saturday)
For more information on tournaments or vendor space, please contact (830) 393-7070 or (830) 581-1022.