This beachfront-entry, junior Olympic-sized pool offers fun and recreation for all ages. With a one-meter diving board and children's slide, the Floresville City Pool is a hit with both avid swimmers and dog-paddling kiddos. Amenities include outdoor showers, patio furniture, shaded areas, and several snack vending machines. The Floresville City Pool also offers swimming lessons and classes for a nominal fee to children and adults of various ages and experience levels.
---
Admission
Children 3 and under: Free
Children 4–17: $3.00
Adults 18–54: $5.00
Seniors (55 and over): $3.00
---
Season Passes
Pool passes can be purchased at the pool by cash or money order:
$75 per person; or
$150 per family (up to 2 adults and 4 children)
Contact Info
Floresville City Pool
SH 97 West
(2 miles west of downtown)
Floresville, TX 78114
Closed for the Year

The pool is closed for the year. Thanks for a great season and we'll see you in 2024!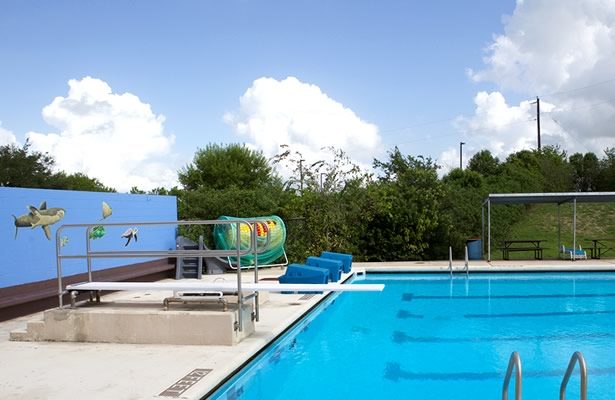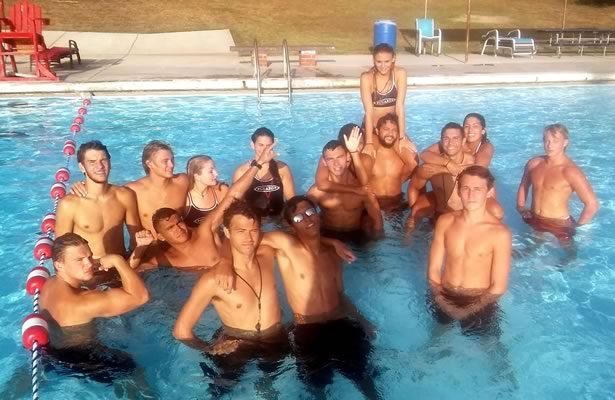 ---
Pool Parties
May 19–September 3
Beginning April 1, to check for availability or reserve a date/time (May 19 through September 3), please call (830) 484-7205 and leave your name and phone number. Parties must be paid by money order only.
Pool parties can be booked for the following days and hours:
Sunday: 11:00 am–1:00 pm; 8:15 pm
Monday: 7:00 pm
Wednesdays: 7:15 pm
Thursday and Friday: 8:15 pm
Saturday: 10:00 am–12 noon; 8:15 pm
Costs:
Floresville Residents: $150 for two hours (Monday, Wednesday, Thursday); $175 for two hours (Friday, Saturday, Sunday)
Non-Residents: $175 for two hours (Monday, Wednesday, Thursday); $200 for two hours (Friday, Saturday, Sunday)
Additional Hours: $75 each
Additional $30 charge per extra lifeguard (required for 60+ swimmers for PM parties and 70+ swimmers for AM parties and/or four-hour parties)
$50 non-refundable deposit due one week from booking. Balance due two weeks prior to party date. Parties MUST be paid by money order.
---
Lessons & Classes
Children's Swim Lessons (June 6–August 11)
Ages: 4 years and up
Days: Tuesday–Friday; group lessons last two weeks
Times: 9:00 am, 10:00 am, 11:00 am
Cost: $60 for first child, $55 for second child, $45 for third child in family. (Discounted rate for multiple children available one session only; additional sessions are $60 per child.) Limit two sessions per family. No personal checks. Cash or money orders only.
Beginning April 1, call (830) 484-7205 for more info.

Morning Water Aerobics (May 30–August 11)
Days: Monday–Friday
Time: 8:00–8:45 am
Cost: $2/class if paid at beginning of month; $3/class if paid daily
Contact: Linda @ (210) 632-6018
Adults (18 and older) only. No lifeguard.
Aqua Zumba
Information coming soon . . .
Adult Lap Swim (June 6–August 15)
Days: Tuesday–Friday
Time: 11:30 am–12:00 noon
Cost: $5
Adults (18 and older) only. No lifeguard.
Adult Late Night Swim (June 6–August 8)
Days: Tuesday nights
Time: 8:00–10:00 pm
Cost: $5
Adults (18 and older) only. No lifeguard.
ACYP Swim Team
Contact: (830) 581-9797 or allcityyouthprograms@gmail.com
---
Rules & Reminders
Children 12 and under MUST be accompanied and supervised by an adult 18 or older.
Supervising adult should stay within arm's reach of non-swimmers.
Floaties and flotation devices should never take the place of supervision.
Swimmers under 18 MUST be accompanied to deep end of pool by supervising adult, 18 or older.
Infants and toddlers MUST wear swim diapers covered by a swimsuit until potty trained.
ALL SWIMMERS MUST WEAR SWIMSUITS.
Regulation swimwear required. Basketball shorts, sports bras, and other exercise apparel are not a substitute for regulation swimwear. A clean t-shirt may be worn over swimsuit.
NO DENIM ALLOWED.
No alcohol, no smoking, and no glass containers allowed within pool gates.
Outside food, drinks, and ice chests WILL be allowed if patron agrees to let office employees search said items.
Checks and credit cards are not accepted at the pool. Cash and money orders only. (Parties MUST be paid by money order.)
Remember your sunscreen and drink plenty of fluids. Have a fun and safe summer!